One of the most important aspects of creating value for customers in the digital age is an understanding of the radical changes that have occurred in the way we buy.
We are now in a new sales landscape largely due to the availability of information on-line. You can take any industry, product or service and within a couple of hours of research know the key providers, do cost comparisons, read social proof and peer reviews all without ever needing to speak to a representative from the company.
Previously, much of this information could only be acquired via one on one meetings where the salesperson would 'educate' you on their product or service. Now the customer is much better informed and is engaging with the salesperson further along in the buying process. What is the impact of this change?
It's becoming increasingly harder for companies to differentiate themselves and demonstrate their value.
Fundamentally, salespeople need to radically change their approach if they want to avoid appearing irrelevant and boring their prospective customers with information they already know!
Can you sense where customers are at, and are you on the same page?
They need you to rapidly digest their situation and demonstrate you understand their needs.
You also need to have a much greater understanding of their context, the industry they operate in and the key challenges currently being faced in their sector. Only then will you be in a position to advise and influence decision makers with your expertise.
The good news is that customers really do need and want to engage with professional salespeople but the qualities they are looking for have changed.
A recent Rain Group survey of senior level buyers revealed the top three qualities they valued most in salespeople.
Educated me with fresh ideas and new perspectives.
Collaborated with me.
Persuaded me we would achieve new ideas or results.
This clearly demonstrates that in order to differentiate yourself you need to change your mind-set. Remove old habits, that keep you in your comfort zone where you focus on telling people about your product or service, and all its features and benefits!
To capture the attention of today's buyer you need an approach that stimulates interest, focuses on adding value and brings customers fresh ideas and solutions. Ones that support and enable them to achieve their key business objectives.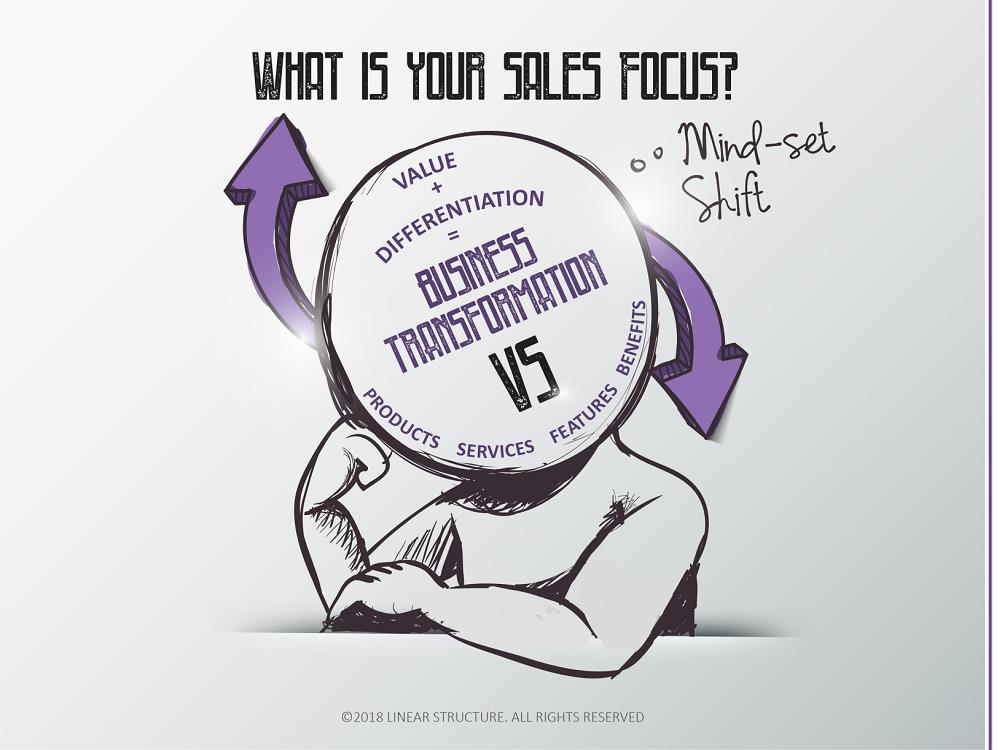 This value-driven sales approach involves you sharing your expertise and demonstrating your value.
Here are Four keys to doing this successfully.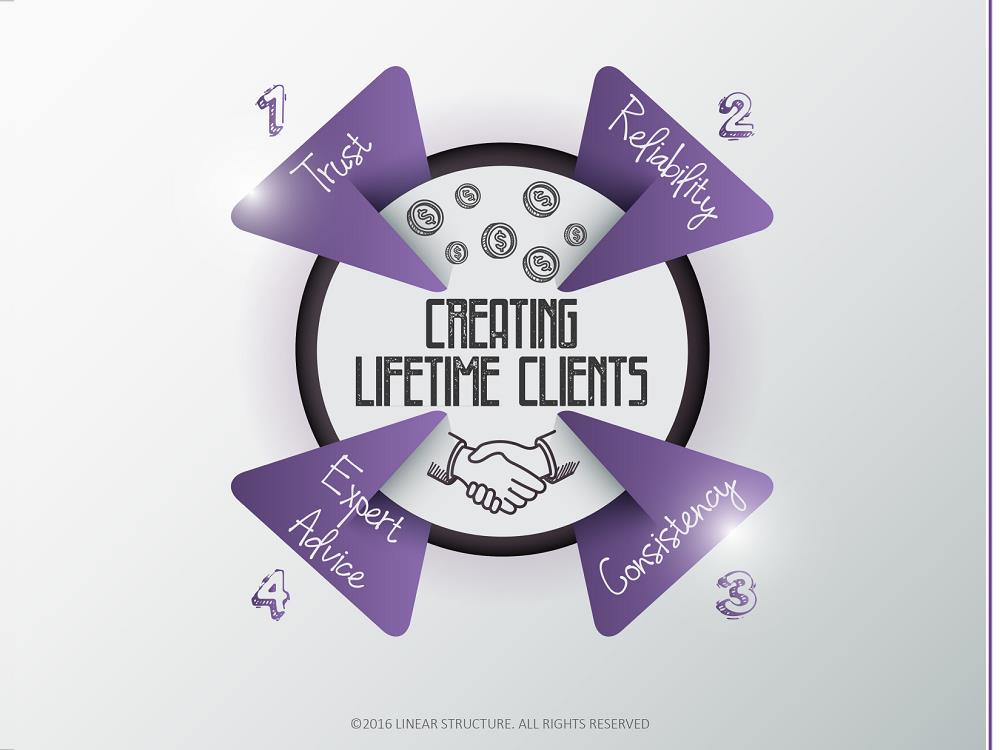 Trust – Actively listen to what people are saying, rather than just hearing and thinking about what you will say next! In today's smart phone obsessed world people everywhere are craving for personal interactions where they are truly listened to. This level of genuine personal interest should be a hallmark of your approach and one that clearly differentiates you. Be prepared with some great questions to open up a meaningful discussion around their business objectives that will enable you to share some valuable experiences you've gained in working with your best clients.
Reliability – Do you diligently do what you said you would? After your meeting do you follow up promptly with a 'Commitment Email' that simply outlines your understanding of the main points you covered and the actions points you both agreed too, plus an invitation to them to respond with any points you may have omitted. Customers highly value partners that are reliable and continue to communicate clearly throughout the buying process regarding delivery, payment and post implementation.
Consistency – Your customers are bombarded with an information overload. So, ensuring you stay top of mind is a key challenge. One way to address this is by ensuring that you continually add value on a regular basis. The creation of meaningful content enables you to deliver insights to customers year-round whether or not they are currently buying or using your service or product. So, why not create your own, Industry White papers, case-studies, visuals, user-tips and recent innovations to share either in person or on-line to deliver consistent value.
Expert Advice – Despite all the changes in the buying / sales process and the level of accessible information on-line, one fact remains. You should be an expert in your field. If you have done your homework and researched the industries of your customers you have a wealth of insights and experience to share. At best your customer will probably get involved infrequently with your product and service. Whilst you live and breath it on a daily basis. Some of greatest value you can deliver to customers is by helping them avoid potential challenges and expensive pitfalls.
Demonstrating your Value
One area that client's frequently raise as a challenge is differentiating themselves from the herd and demonstrating their value in meetings.
I've studied this at length and what I discovered was that it is rare to find business people who have clear objectives and a structured way to direct their client meetings.
The below visual highlights the need for three critical elements to be in place for a successful meeting.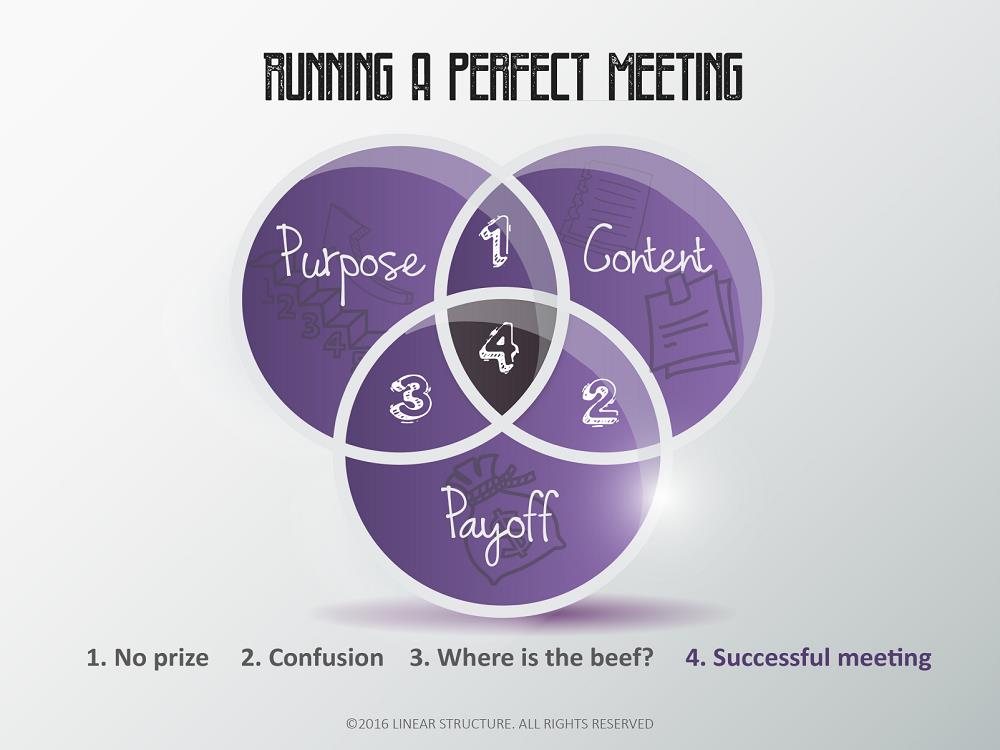 Simply, by outlining the purpose of the meeting and objectives of both sides at the outset, time can be correctly apportioned to cover each aspect.
By sharing a suggested content to be covered allows your client to know the direction for the meeting and to add any points they would like to include.
Finally, in your introduction agree that if you do find areas of interest you'll be happy to do some additional research and arrange to see them again.
In this way, you alleviate confusion, wasted time, random tangents and you or your customer leaving not knowing what the potential next step should be!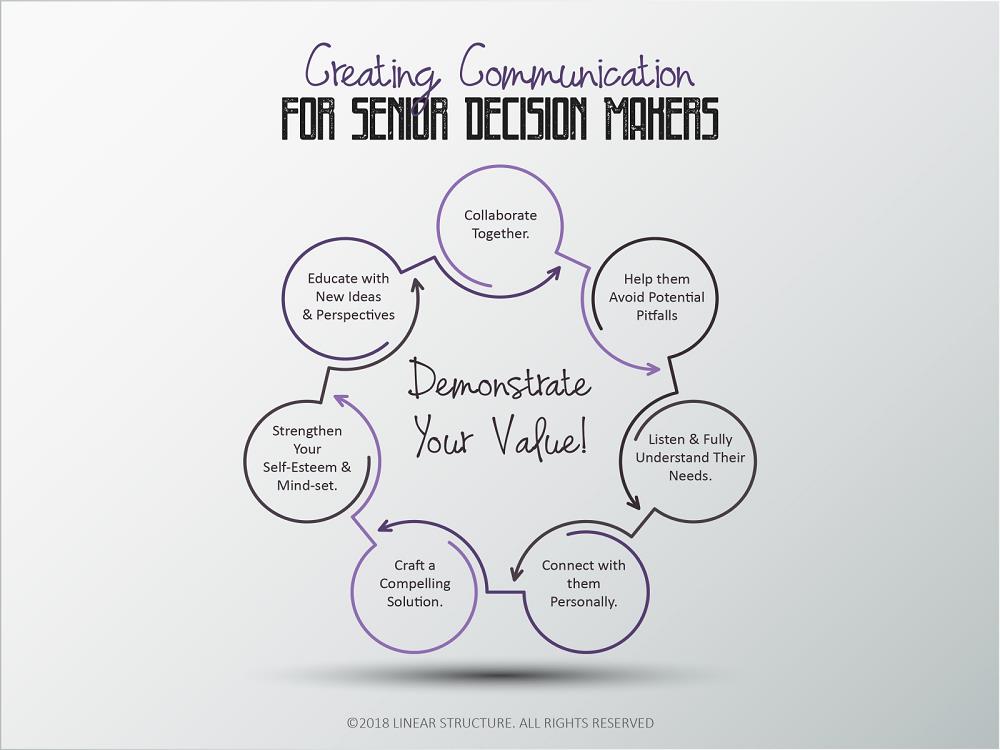 In summary, our customers have evolved in the way they procure products and services and we must adapt our approach to one that is value driven to remain relevant.
We need to differentiate ourselves by educating customers not on – 'features & benefits', but with fresh ideas and perspectives, helping them avoid pitfalls and aligning mutual objectives to ensure they achieve their business results.
This value can only be delivered by a deeper understanding of their situation and improved levels of communication. It's an exciting time to improve your sales approach. The need for companies and individuals to embrace these changes has never been greater. The opportunity in front of you is not just to survive but to really Thrive in this new sales reality.