Over the last few months, I've had several conversations with senior executives about an insidious challenge they are seeing develop with the use and proliferation of mobile device technology.
The issue is 'Phubbing' and it has been receiving increased attention in the media recently due to its negative impact on personal relationships.
The term describes the practice of ignoring one's companion or companions in order to pay attention to one's phone or another mobile device.
So how are these sales leaders affected? In three ways:
When they are running sales meetings or training workshops their team want to engage more with their mobile phones than with the meeting agenda and their fellow colleagues.
When in external sales meetings their people are struggling to interact personally with prospects and 'stay in the moment' concentrating on the other person's responses to questions.
When they are doing 1-2-1 coaching their people speak of how their business life intrudes into their private life outside office hours. They are finding themselves slaves to the technology rather than masters of it and they find that they can never completely switch off.
People's habits are changing and their preferred methods of communication too. So, the challenge as sales leaders and sales professionals is to keep developing the art of personal interaction and communication both internally in the organisation but also externally with clients!
Many people who are guilty of phubbing in business will say that they do it to be more efficient. All I see is that efficiency is lowered rather than increased. Imagine someone in a training session who is also answering emails, their participation and learning might only be 60% while the effectiveness of their email communication might also only be 60%. They will have missed out on their learning and may need to repeat it later and may also spend more time resolving questions or issues arising from their emails!
But what is the potential impact externally on client meetings?
Hopefully no one is guilty of checking their phone whilst attempting to have a conversation with a prospect or client…are they?
Recent studies have shown that many of us are checking our phones 150 times a day for social media updates, texts and emails. The impact of this constant distraction seems to be a lowering of people's ability to concentrate, focus and stay in the moment. All critical attributes required for building trusting relationships both personal and in business.
When you link this situation with the responses given by clients in a recent Rain Group survey that asked:
What qualities do you value most in a sales person?
The answers are very insightful.
Here are the Top Ten Qualities Customers Value Most.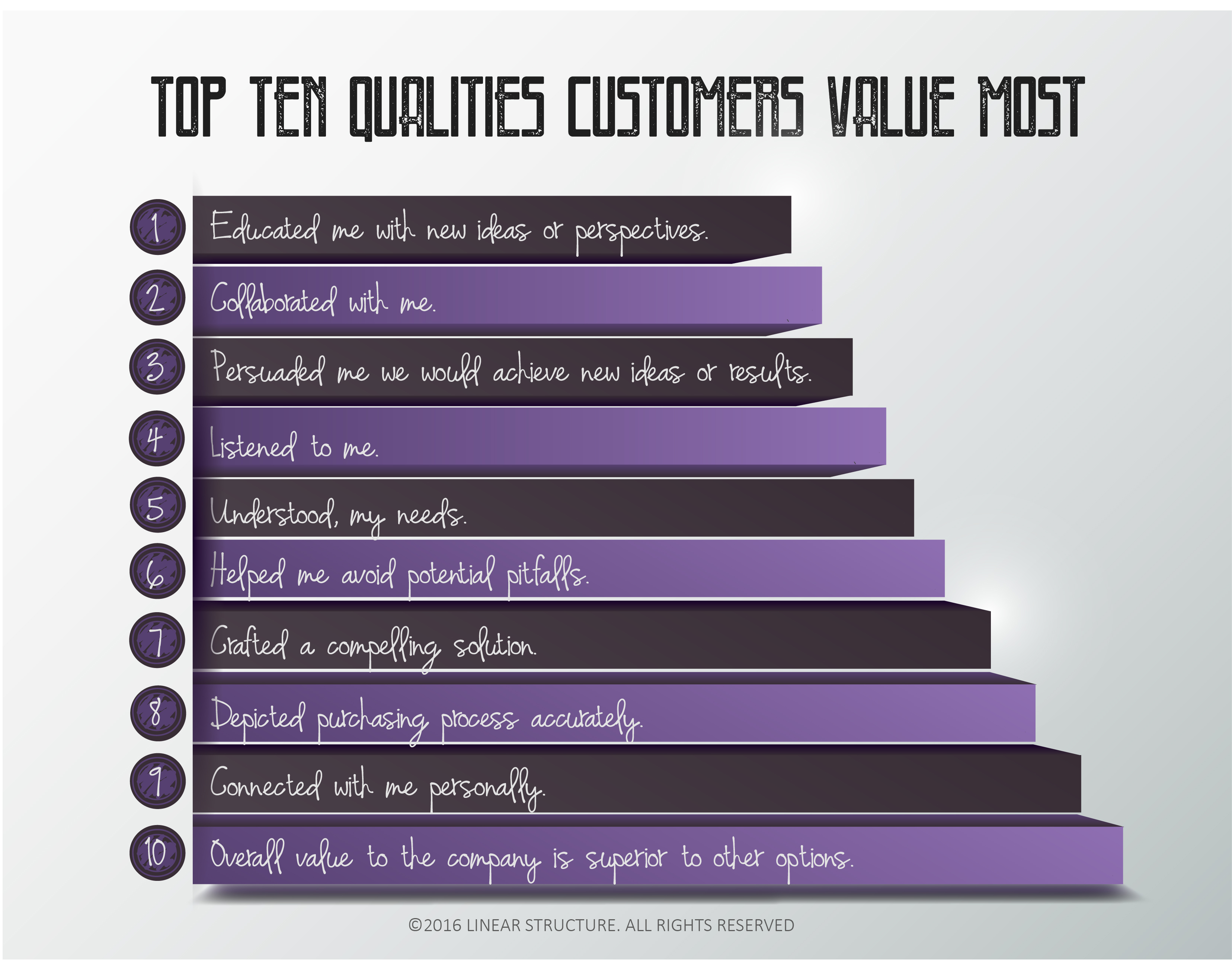 It's interesting to note that of these top ten attributes only the last one involves the organisation, all the others focus on the individual.
Which underlines the critical role the sales person plays and how vital their ability to interact is on who will win the business.
This is a key issue that I explore in greater detail in my latest book 'The Sales Strategist' https://www.linearstructure.com/the-sales-strategist-book/
So, let me ask you a question.
What are you doing to aid to your team to develop their ability to communicate and avoid the phubbing trap?
Here are three positive actions we can take to address the challenge.
 Lead by example. As sales leaders, we need to set the example to those around us. Demonstrating how to be effective by focusing our attention on those around us. Engaging with them and giving them our full concentration without distraction.
Set aside time for each activity. Coach your team to use their calendar as a method of planning time for each activity to increase performance rather than trying to tackle several tasks at once with lower effectiveness.
Create a high-performance culture & etiquette. As leaders, we can lead the way by demonstrating a new business etiquette for the technological world and encouraging others to observe the same etiquette in our businesses. We can set the level of expectation and create a sense of group accountability amongst the team to self-censor inappropriate behaviour. Technology is amazing but don't let it spoil your communication skills, the very ones that made you successful in sales to begin with!