Sales managers everywhere realise the power of social media. But often it's a struggle to leverage this power through the sales team's activities to ensure it impacts sales results.
In a recent webinar with Sara Pearce of Saffron Pea Media, we discussed several keys to achieve this. In this brief post I'd like to share a few with you and recommend you checkout the live webinar here:
https://www.linearstructure.com/video/how-to-leverage-the-power-of-social-media-for-sales-managers/
It all starts by ensuring your sales and marketing work complement each other. As shown below Marketing / Sales and Customers are intrinsically linked and self-supporting.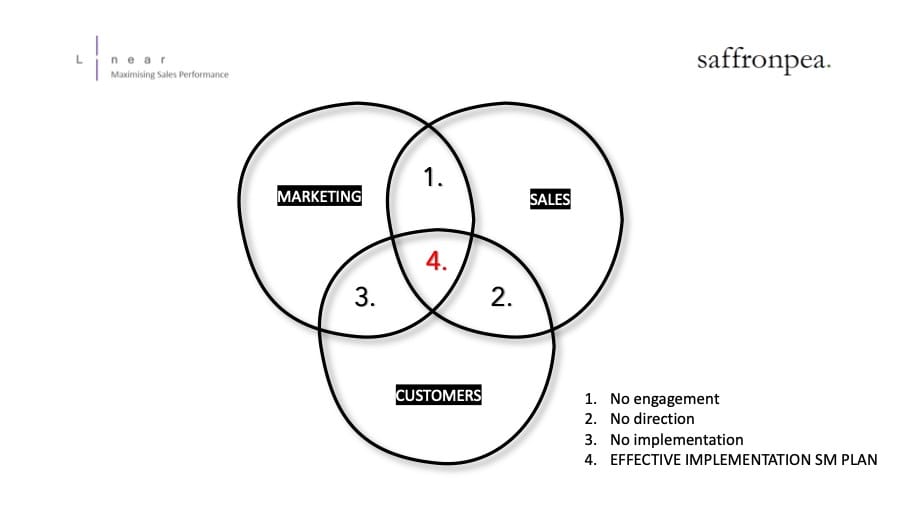 As a sales manager you have a multiplying effect which is so much more powerful and can open doors to new opportunities. But to achieve this you need to give clear direction to everyone in your team on the 'Social Media Sales Process' you expect them to follow.
Here are just a few steps to include:
Hang out where your contacts hang out. – Pick the channels you want to be on, create a consistent Bio for your team and company.
Focus your Twitter feed by creating lists. Example lists could be targets, media, customers and competitors. This will assist greatly in managing the amount and quality of information you receive.
Browse the contacts of your good connections are there any who you think you could help? Ask your good contacts if it would be worth introducing you.
Join webinars which you think your target audience will attend. And think about a good question to ask at the end to make yourself stand out. This is unique opportunity to network online.
Leverage the CONTENT search and filter by author sector to give you ACTIVE contacts on LinkedIn who may be more open to connections than those who are not active. Comment, like their posts or if appropriate request a connection with a carefully worded invitation text explaining why it would be mutually beneficial to connect.
Sharing knowledge. Use company produced content to send to contacts on LinkedIn "thought this specific article would be interesting to you" would you like to set up Zoom meeting?
These are just a handful of the ideas you can implement to enable everyone on the team to embrace social selling effectively. Click the webinar link above to get the whole story.
What's next?
At the beginning of this post I mentioned bringing sales and marketing departments together. This alignment doesn't happen by chance, it has to be well thought out and implemented with enthusiasm and commitment.
But the major benefits in revenue growth have never been more important in today's economy.
So, in our next live interactive webinar Sara & I will focus on:
'B2B Smarketing that Drives Revenue Growth'.
Save the date & time Thursday 27th August 11.00am London Time.
Here's your invite to register for this impactful event.
Register in advance for this meeting:
https://us02web.zoom.us/meeting/register/tZ0udeqvqTgiG9zFfI3NcaTOSkrTPRjRkvGd
After registering, you will receive a confirmation email containing information about joining the meeting.
Look forward to seeing you there.
Dedicated to Your Continued Sales Success!
Peter